Paris Fashion Week, Spring 2009: Karl Lagerfeld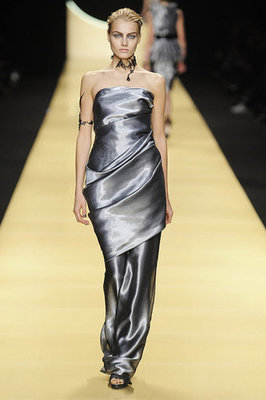 Yesterday Karl Lagerfeld took to the catwalk with his own brand futuristic collection. This was the best collection I've seen from Lagerfeld in recent memory (for his own brand) as it usually consists of designs he himself might wear.
For Spring 2009 Karl moved away from that and upped the ante creating glamorous red carpet worthy ensembles with key accessories such as metal tattoo like cuffs and giant waist clinching belts.
The pieces were wearable such as suits, dresses and the occasional peplums. Obviously some Karl Lagerfeld staples were present including crisp white shirts and black combinations and his presence was still very much felt on the catwalk.
My personal favourite from this collection is the fluid metallic dress which will surely make its red carpet debut very soon. Fashion editors Anna Wintour and Anna Piaggi graced the front row. See below for images from the collection, and be sure to tell us what you think.