Paris Fashion Week, A/W 2009: Chanel
Chanel is always the collection I look forward to. I'm intrigued as to how Karl Lagerfeld will once again interpret trends in a very classic, chic way. This season he was inspired by Beau Brummell, who is widely credited with inventing the modern man's suit. His style was interpreted with suits, little black dresses and double breasted jackets all adorned with lace applique and teamed with flat boater hats. Lagerfeld mainly drew from a monochrome palette with shots of pink and green detailing and knitwear.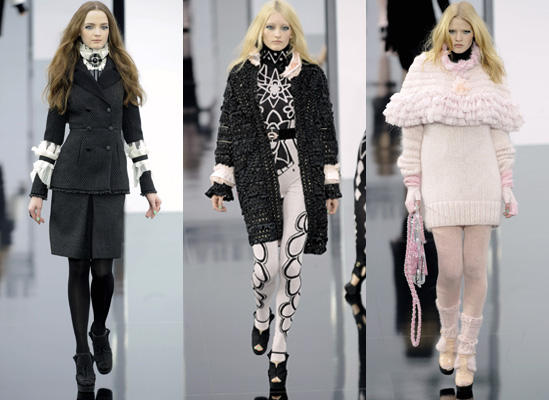 To find out about the celebs in attendance and for images, just read more.
There was a lot of celebrity support as the likes of Claudia Schiffer, Freida Pinto and Lily Allen sat front row (vote on the best dressed here). None caused quite as much fuss as Kate Moss though who took her seat between Jamie Hince and Mario Testino whilst the photographers almost ruined the catwalk scrambling to get a shot of her.