Paul Costelloe Spring 2010 London Fashion Week
London Fashion Week, Spring 2010: Paul Costelloe
London Fashion Week opened this morning with a show from Paul Costelloe who always gets the showcase off to a great start. There was a lot of excitement around the first show as everybody tried to find their way around the new Somerset House venue. The catwalk tent is in the middle of the courtyard instantly providing a beautiful backdrop. Costelloe's Spring collection continued on from his Autumn '09 line with feminine, but elegant ensembles. The biggest difference this season was the introduction of menswear to the show which he said aimed to compliment his womenswear.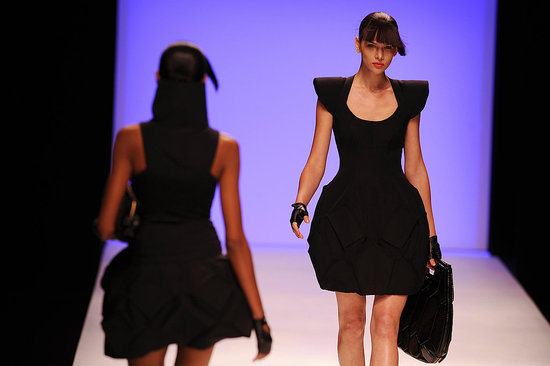 Whilst the collection was trend driven (think big shoulders and a few neutral shades) it was really designed to flatter women. It was heavily inspired by architecture with strong geometric shapes and nectar-like patterns adorning skirts and matching clutch bags.
There was a slight space age vibe in a '60s-futuristic way with metallic jacquards, funnel neck and padded shoulders. The show came to a close with two floor length gowns which would make perfect awards show attire. The cowl bag added a nice touch to the otherwise straight forward silhouette. I managed to catch up with Paul after the show and you can read my interview here! For images from the show, just read more.