Philosophy Launch Holiday Gift Collection For Christmas Present Beauty Treats
Festive Season Celebrations with Philosophy's Holiday Gifts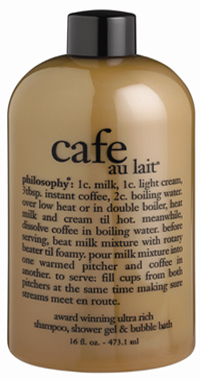 As Christmas is fast approaching, I hope you've all been checking out mine and Fab UK's 2008 Holiday Gift Guides. I just had to give a special mention though to Philosophy's collection of delectable goodies for the festive season. The American beauty brand has gone all out this year to bring us some covetable stocking fillers as well as stunning gift sets that will wow your friends and family.
I am particularly impressed with their new good-enough-to-eat flavours. Gingerbread, Spicy Gumdrop and Red Licorice are just three of the latest scents for their high foaming shampoo, shower gel and bubble bath in one formulas. My personal favourite though is Cafe au Lait (£14). It has a deliciously creamy texture and smells like a sweet mocha, rather than a full-on espresso. As someone who doesn't even drink coffee, I have to say it made even early morning showers ultra appealing.
For some more great gift ideas and pictures of the products, just read more.
For a playful present why not try The Gingerbread House (£22.50) set which contains small versions of the Gingerbread, Spicy Gumdrop, Orange Cranberry Spritzer and Sweet Creamy Frosting gels. Alternatively if you have a wannabe Nigella Lawson on your hands, then The Recipe Box (£14) contains classic cookery inspired shower gels, such as red velvet or strawberry shortcake. Matching recipe cards means you'll be able to indulge your taste buds too.