Photo of Anne Hathaway and Kate Hudson
Fab Blab: Rachel Zoe Explains Bride Wars Red Carpet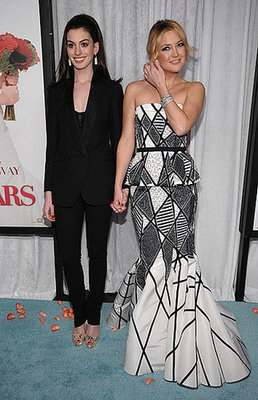 Anne Hathaway and Kate Hudson have been busy promoting their latest movie Bride Wars. The pair obviously wanted to do it in style so when they hit the red carpet in NYC yesterday Kate opted for Oscar de la Renta whilst Anne went for a tuxedo by Band of Outsiders (let my girl Bella know what you think of her fall here).
The pair have been styled by Rachel Zoe and today she told WWD the inspiration behind their ensembles. "Kate had this idea in her head. She wanted to play off the whole bridal theme of the movie and do full-on and do something over the top. It had the drama of a bridal gown but it wasn't totally bridal. It was Annie's idea to do a tuxedo and my initial reaction was that they were going to look like a bride and groom…and she liked that."
I actually prefer Anne's look. Whose red carpet style do you prefer?