Photos of the 2010 Chanel Autumn Haute Couture Collection in Paris with Lion Theme
2010 Autumn Couture: Chanel
Couture week continued yesterday in Paris with shows from Givenchy, Armani Prive and Chanel. Karl Lagerfeld regularly transforms the Grand Palais and this time he did so with an enormous gold lion resting on a giant pearl. Karl said he was inspired by a bronze lion he found in Coco Chanel's apartment. The collection remained true to Chanel with classic suits (slightly shorter this season), however the Autumn pret a porter collection was present in the fur cuffs and the gorgeous coats.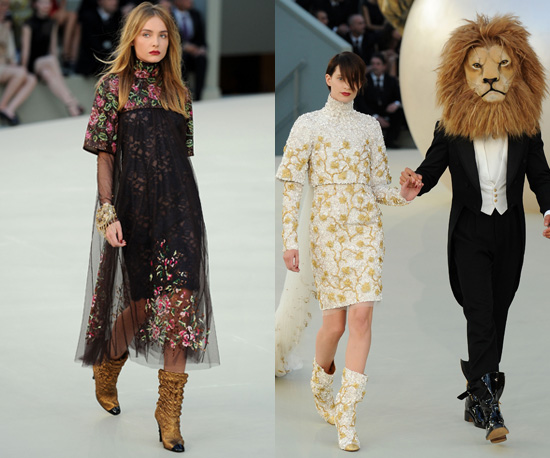 The lion theme was present throughout with statement belts and gold slouchy boots which were similar to the lion's mane. Tiers were a key part of the line with peplum dresses, and short bolero jacket worn over long dresses. Perhaps the key talking part will be the lions mask worn by the groom at the end. It's this fine line between genius and ridiculous that keeps Chanel interesting.
See more photos from the show after the jump.