Photos of Amanda Henrick Banned by UK Advertising Standards Agency
Photos of Amanda Henrick Banned by UK ASA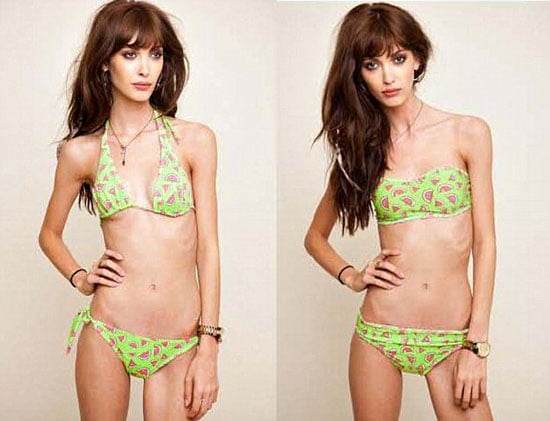 The UK ASA (Advertising Standards Agency) have put their foot down once again, but this time I don't think anyone will be arguing against them. 21 year old Scottish model Amanda Henrick's photos were taken off of Drop Dead Clothing's website after consumers complained that she looked anorexic. The ASA claims these images are "socially irresponsible" and that Amanda looks underweight and unhealthy. Drop Dead Clothing happens to be owned by the family of Amanda's ex-boyfriend. They didn't cause a stir, but simply removed the images promptly. Amanda however, is claiming that she is just naturally thin and that she doesn't have any issues with her body image or with food.
Amanda is revered in Scotland for her style and celebrity, and last month she won the title of Scotland's Most Stylish Woman. However, she is extremely slight and has a body size that almost no adult woman can attain. In fact, the DailyMail reported that according to her online profile, she is 5 feet 10 inches tall with a 24-inch waist, which is actually 10 inches smaller than the average British woman. The ASA's ruling said,

"The ASA considered the model was very slim. We also noted that in the bikini and denim shorts images, hollows in her thighs were noticeable and she had prominent thigh bones. We considered that in combination with the stretched out pose and heavy eye make-up, the model looked underweight in the pictures."
What do you think of this outcome?