Photos of Catwalk at London College of Fashion BA Graduate Show 2010
2010 Graduate Fashion Week: London College of Fashion
Whilst official Graduate Fashion Week doesn't kick off until Sunday, some of the London universities are ahead of the game. London College of Fashion BA students presented their graduate collections this evening showing a range of pieces from knitwear to cutting edge womenswear. One of the most memorable moments of the evening has to be the use of mature models alongside young faces. It showed the versatility of the pieces and the skills of the young designers.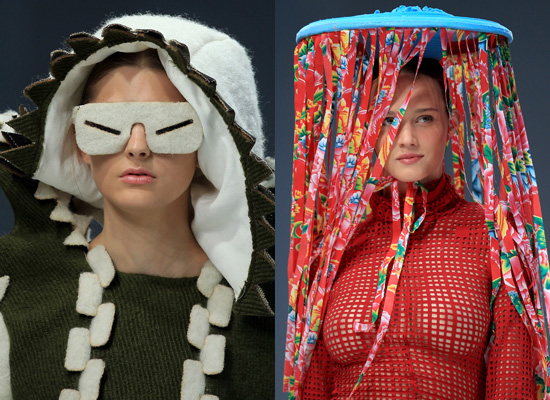 To see more photos from the show, just read more.
The show opened with a colourful collection by Karishma Shahani which included floral garlands and tie dye skinny trousers. The pieces were influenced by the festival season with ombre colours and applique detailing. It was followed by designs by Naoya Nakayama who took inspiration from the classic trench coat and developed it in to a whole line of asymmetric cut items.
Yelena Loguiiko mixed textures for a collection which was mainly camel coloured with statement fur hats. This was followed by Wei Ting Hu's sportswear inspired line with sweater fabrics and block colour. Yuco Kamiyama was a highlight for me as it truly pushed the boundaries of androgynous clothing. Both men and women modeled the designs which didn't look out of place on either.
Ki Chung Cheung and Ka Wai Lo worked together on a memorable collection of spikey cut out fabric using tweed and corduroy. The pieces used earthy colours and were teamed with mask like sunglasses. Ryo Himuro closed the show with a very colourful presentation. It used neon and greens with applique letters and even a bit of satin. You can see more photos below.
Photos courtesy of Chris Moore via LCF and Getty