Photos of Edinburgh College of Art Graduate Show 2010
2010 Graduate Fashion Week: Edinburgh College of Art
Fashion graduates from across the UK descended on Earls Court today as the showcase kicked off. Edinburgh College of Art were one of the institutions to show on the first day and it did not disappoint. The quality of the pieces set the bar very high for the rest of the week as students showed off their commerciability. One of the first to show was Eliza Borkowska who created a white collection which gave the impression of crinkled paper.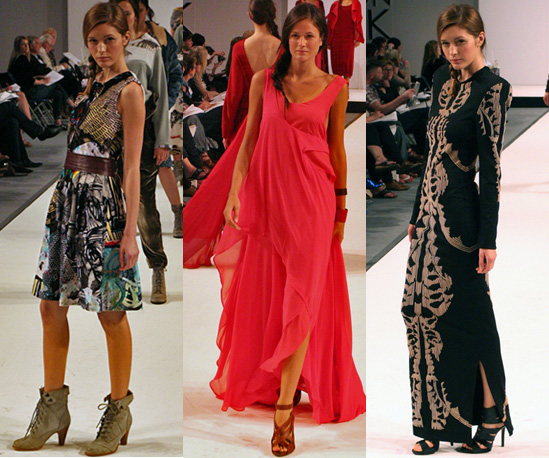 To find out more and for photos, just read more.
She was soon followed by Charlotte Helyar who embraced the current trend for everything 3D. She created a line of dresses covered in illustrations which became 3D with a little help from red and blue glasses. It was great to see Charlotte being so innovative with her designs and nearly everybody in the audience tried the glasses.
More stand out pieces came from Emma Rockett who showcased a line of boating inspired clothing. There were plenty of stripes and tailored items and boaters. My favourite piece was a blue peplum skirt. Lisa Leisos used a red colour palette for her pieces which included layered items, knitwear and a long dramatic cape. Stay tuned for more gossip and catwalk reports from the week.
Photos by Kirsten Borst