Photos of Giles Catwalk Spring 2010 at Paris Fashion Week
Paris Fashion Week, Spring 2010: Giles
Paris Fashion Week came to a close yesterday as British designer Giles Deacon took his place for the first time in the French capital. He won ANDAM sponsorship earlier this year as his brand continues to expand. Yesterday's show was feminine with an edge, as soft ruffles were contrasted against metallic body armour. He was inspired by toxic spiders, ballerinas and dinosaurs (which is most obvious from the accessories). There were pastel shades alongside metallics with fifties silhouettes and flaring tulle skirts.
Giles admitted he did have to change his style slightly for Paris commenting, "You have to make it more concise here. I just wanted to do more real-life, obtainable clothes." It certainly was a more commercially viable collection, but that doesn't mean that he lost his edge. Quirky prints and chic metallics keep the collection interesting.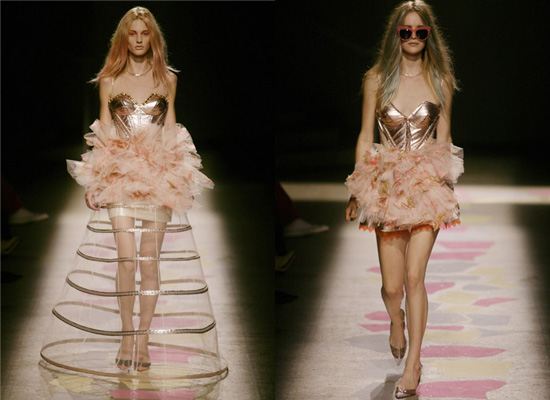 For further images, just keep reading.