Photos of the International Show at Graduate Fashion Week 2010
2010 Graduate Fashion Week: International Show
This year, for the first time, Graduate Fashion Week opened it's doors to international students as five institutions from around the globe showcased their star pupils. Young designers from Singapore, Saint Petersburg, Amsterdam, Switzerland, and Germany took to the catwalk showcasing their creations. The show opened with pieces from German students which included a lot of menswear. Tina Reiter was just one of the graduates who created a unisex collection. The pieces were androgynous with a Rick Owens feel.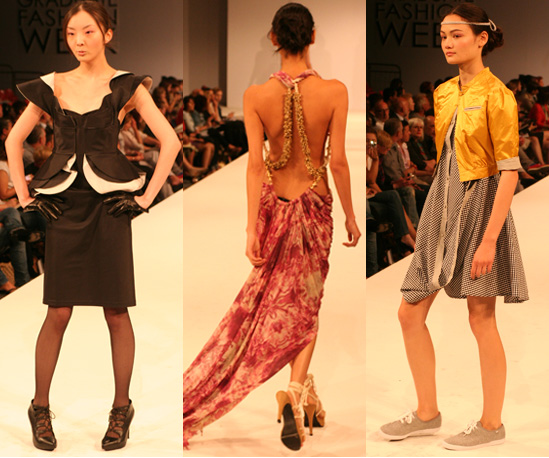 To find out more, just keep reading.
Vicole Lang, who opened for Lasalle, got pulses racing with her collection. It began with a black PVC corset and continued with super short mini dresses in black and gold with the occasional leather. The models also had masks that wouldn't look a miss on Lady Gaga. Lidya Christens went with a castaway line with a gorgeous knot back maxi dress.
Saint Petersburg student Anna Sergunova tested the models with sky high platform wedges. The collection stuck to a greyish blue palette with voluminous skirts, chunky hardware and capes of suede or leather. You can see more photos of the show below.
Photos by Kirsten Borst.