Photos of Jourdan Dunn on the Catwalk at Westfield London
Jourdan Dunn Returns to Catwalk Following Personal Drama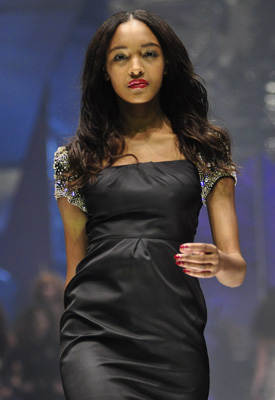 Jourdan Dunn made her first public appearance last night since the scandal about her boyfriend broke at the start of the month. Jourdan was starring in a catwalk show very close to where she was first famously discovered in Hammersmith's Primark as she strut her stuff at Westfield shopping centre.
The young Mum and model was part of The Greatest Fashion Show on Earth which kicked off a three day event at the mall. It is raising money for Fashion for Relief and included some of the hottest trends with pieces by established designers, High Street brands and upcoming talent.
There are a lot of events at Westfield taking place this weekend raising money for Haiti, and you can find out more here. To see photos from the launch show, just read more.