Photos of Kinder Aggugini at 2010 Spring London Fashion Week
London Fashion Week, Spring 2010: Kinder Aggugini
When fashion royalty are sat in the front row (Hilary Alexander, Suzy Menkes, Alexandra Shulman and Kelly Cutrone) you know you're in for a treat. Italian born Kinder Aggugini did not disappoint as he presented his Spring line on day two of London Fashion Week. The show felt like being let in on a well kept secret introducing everyone to his wonderful designs. The collection included a range of pretty party dresses which wouldn't look out of place at Alice in Wonderland's tea party. Indeed, Aggugini was inspired by fairytales and the reality behind them. The real beauty of Aggugini's designs lay in the details with trompe d'oeil prints, polka dots, just visible petticoats and lace panels. The gorgeous millinery was provided by Stephen Jones who created oversized slouchy top hats.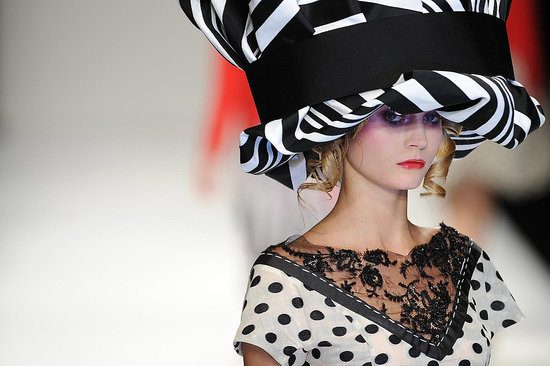 The second half of the presentation upped the ante with a neon palette, spray painted sections and cut out hole punch style circles. It was a very well put together line, which even lead Hilary Alexander to say it was "the best show in London since John Galliano".
For a video and images from the show, just read more.