Photos of the Kingston University BA Fashion Graduate Show
2010 Graduate Fashion Week: Kingston University
Kingston University is becoming one of the most popular shows at Graduate Fashion Week. The theatre was packed for the show yesterday where the collections were consistently of a very high standard. There was a range of womenswear, menswear, knits and printed textiles with a variety of inspiration points. Zheng Zeng was one of the first students to show as she attempted to redefine the female shape. Her pieces were voluminous with exaggerated hips and curves.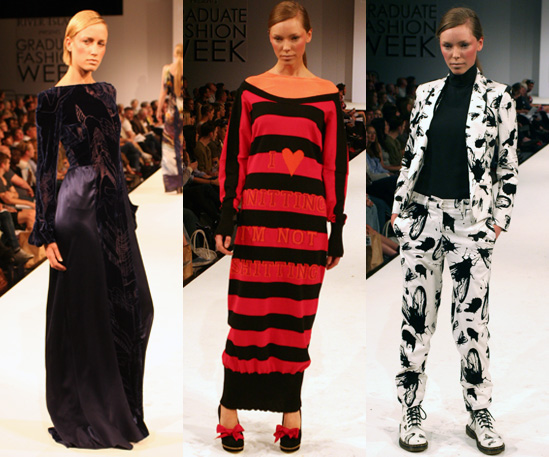 For more photos just, keep reading.
Beth Spurr created piees of leisurewear from traditional sports fabrics with flashes of classic British ones like tweed and tartan. Her collection was based on a series of time experiments, for example, make six garments in 30 minutes or an outfit which can be changed in to in 30 seconds.
Sophie Clark tapped in to the tomboy style with long line blazers, and tailored trousers. It was based on British Summer attire with a touch of eccentricity. Nathalie Tunna worked with pastel shades on a very ladylike line with plastic coated accessories. She was inspired by the rules and regulations of dress code.
Photos by Kirsten Borst.
You can check out all my coverage of Graduate Fashion Week here.