Photos of Matthew Williamson Spring 2011 at London Fashion Week
2011 Spring London Fashion Week: Matthew Williamson
On Sunday evening, I took a cab out to Battersea power station in South of the river for the most original setting of London Fashion Week. Matthew Williamson had erected a tent in the middle where his Spring '11 show took place. The collection was beautiful with eye popping colours and elegant shapes. There was a castaway feeling to the collection with strung together dresses with long tassles and parachute maxis. The show started with more subdued colours like green and beige with shots of burnt orange. Here, the daywear included high waisted, wide leg trousers and a touch of leopard print.
The real show stoppers, thought were long maxi gowns with capes attached creating dramatic volume. These are sure to be snapped up by some of the stars in the front row which included Sienna Miller, Olivia Palermo, Poppy Delevigne and Cat Deeley. All of the looks were teamed with chunky wooden sandals which have developed out of the clog trend of this Summer. Do you like this collection?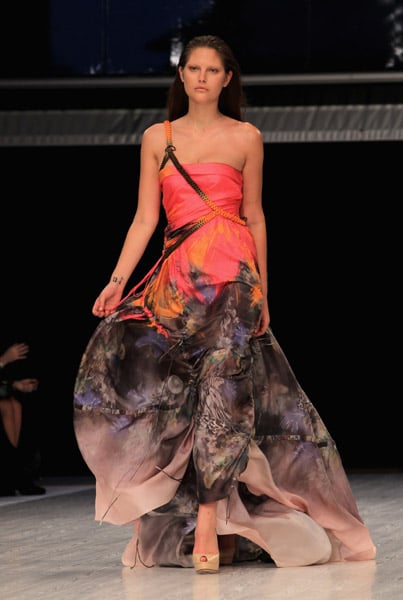 For more photos of the collection, just keep reading.