Photos of PPQ Spring 2011 at London Fashion Week 2010-09-18 02:45:08
2011 Spring London Fashion Week: PPQ
The PPQ show promised 'spice silks' and a land far away, but the reality fell much closer to home. The show ran 45 minutes late which was probably due to the vast array of celebrities they had to seat on the front row (including Paloma Faith, Victoria Hesketh, Brigitte Nielsen and Jamelia). PPQ has always had a big celebrity following (Peaches Geldof, Lily Allen and Cheryl Cole have all worn their designs), and this season looks set to be no different.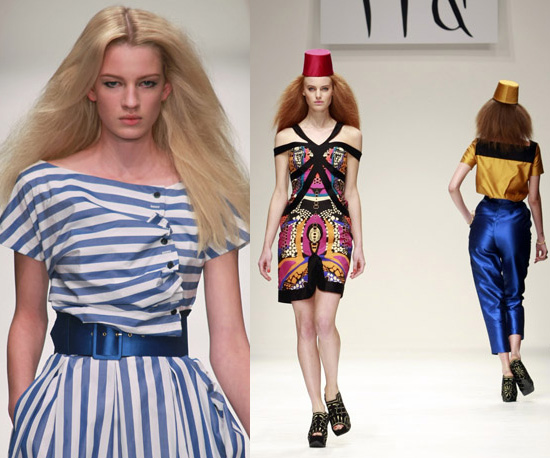 To hear more about the collection and for images, just read more.
The Spring line was packed with tight fitting minidresses decorated with frills and peplums. They were strapless or with thin straps and accessorised with thick waist belts. Think Amy Winehouse around the "Blake incarcerated" era with a touch more flamboyance. Many of the looks were also teamed with fez hats at an angle – the latest must have accessory?
There was also a bright print which was present throughout and also adorned a boxy top handle bag which featured heavily throughout. The second half of the collection was much more traditionally British with Victoria style blouses, nautical stripes and high waist lines. Think colonialism with a modern day twist.