Photos of Poppy Delevigne at Matthew Williamson Spring 2011
Exclusive! Few Fab Words with Poppy Delevigne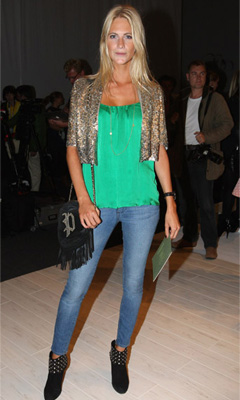 Since London Fashion Week ended, I have already shared some exclusive interviews with you from Cat Deeley and Joe Zee. Another front row regular who I managed to catch up with was Poppy Delevigne.
The British socialite has been attending Spring shows in both New York and London. I managed to grab her at the Matthew Williamson show.
It was recently revealed that she will feature in the new Mango campaign along with Olivia Palermo and Scarlett Johannson. You can read my interview with Poppy below.


Which was your favourite look from the show?
I love the sort of crocheted dress with the little dangly bits and the crochet was going around. I also loved the gold, lilac and turquoise snakeskin dress.
To hear what else Poppy had to say, just read more.
Have you been to a lot of shows?
Not a lot in London actually. Here I've only done Sass and Bide, Twenty8Twelve and Matthew Williamson, but I have Mark Fast tomorrow and then Burberry to finish it.
What was your favourite in New York?
Actually, someone who is completely unknown. I think it was his first show, Christian Cota, and I loved his show. I thought it was absolutely beautiful. Look him up!
Find out about Poppy's beauty secrets here.