Photos of Scarlett Johannson for Mango Autumn Winter 2010 2010-07-05 02:15:29
Fab Ad: Scarlett Johannson for Mango Autumn 2010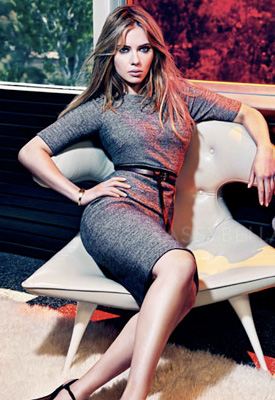 Scarlett Johannson is continuing to be the face of Mango for Autumn 2010 with a gorgeous new campaign. The actress appeared in the Summer advertising which most of you seemed to like, and I'm sure this one will get an equally as positive reaction.
For Autumn 2010, Scarlett shows off her curves in '50s style dresses. The knee length of these frocks is very flattering on her – especially with a carefully placed belt.
The retro feel of her outfits is mirrored in the setting with a cool chair and soft lighting. Are you happy to see Scarlett still representing the High Street store, or would you like to see a new face?