Photos of Spring Mulberry Collection 2010 at London Fashion Week
London Fashion Week, Spring 2010: Mulberry
The Mulberry fairground rolled in to town today with plenty of bright coloured balloons to decorate the classic Claridges hotel. The Spring 2010 collection included plenty of bright pastel colours creating fun, playful pieces. There was an '80s LA feel with big shoulders, boxy jackets and tasseled accessories, but given a young twist with funky heels and slouchy accessories. This season saw Emma Hill take Mulberry handbags in a new direction as the classic Bayswater bag was reinvented in a more relaxed style with a long cross body strap.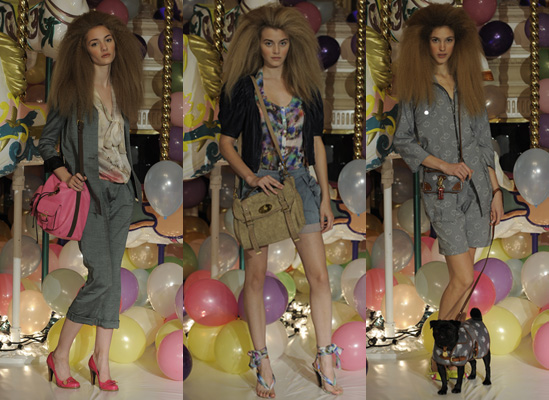 For images and more information about the collection, just keep reading.
The colour of the leather was eye catching – think bright pink and leopard print. There was still a relaxed tomboy style (similar to that of Mulberry fans Alexa Chung and Fearne Cotton), but it felt slightly more grown up. Key pieces which caught my eye included a soft biker jacket and the appropriately named Alexa bag. There was also a catwalk appearance from Brix Smith Start's pug, Gladys, who modeled some of the new doggy designs!