Photos of Twenty8Twelve Spring 2011 at London Fashion Week 2010-09-18 09:39:55
2011 Spring London Fashion Week: Twenty8Twelve
It's sunny for the second day of London Fashion Week and Twenty8Twelve even made me forget about the cold chill in the air. They created a laid back vibe for their Spring 2011 show with wearable day pieces including printed mini dresses and blue denim. Most of the dresses, some of which had a watercolour print, were bum skimming showing off sun kissed skin and flat sandals. It's great to see such a commercially viable brand showing in the UK as it helps balance the many young designers the city has to offer.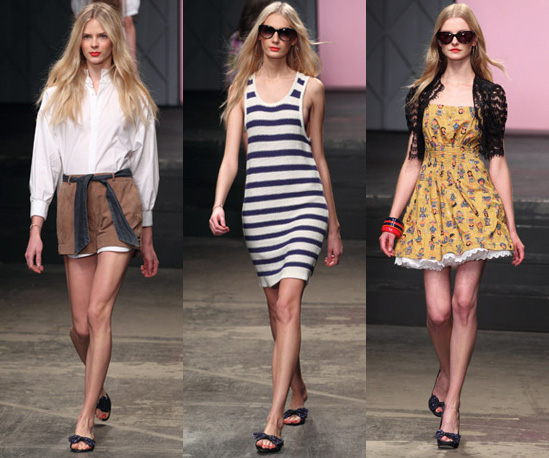 You can definitely imagine Sienna wearing all of the pieces which had a relaxed '90s surfer feel. The skirts were teamed with pretty petticoats that were just visible bringing a girly feel to the collection. There was no shortage of celebrity support either as Sienna's beau Jude Law sat alongside Matthew Williamson, Jacquetta Wheeler, Pixie Geldof and Olivia Inge.
To see further images, just read more.