Photos of the University of East London at Graduate Fashion Week 2010
2010 Graduate Fashion Week: University of East London
East London is considered to be the home of avant garde fashion in the capital. If you want to see cutting edge fashion then it's definitely the place to go as people get truly creative with their clothing. The university reflects that and the graduates who presented their collections yesterday made the most of this reputation. The show contained a lot of leather which gave a similar impression as Givenchy A/W '10 designs.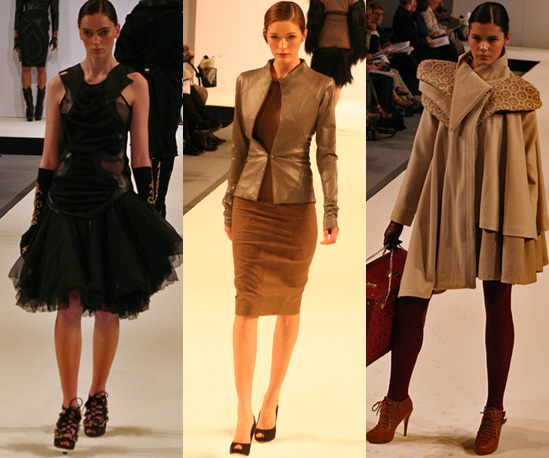 To see photos from the show, just read more.
Natasha Wood opened the show as she reworked the classic trench coat. She used traditional British fabrics like tweed and leather for an edgy yet wearable line. Stephanie Hemphill embraced sportwear in a chic way with hooded items, drapes and sheer PVC.
Rachel Taylor's collection reminded me of Florence Welch's on stage style. Think black and gold, bell sleeves and very short hemlines. Accessories can help student collections stand out, which is exactly what happened for Qeesra Dad who included gorgeous suitcases alongside architectural pieces.
Comparisons have been drawn between Bunmi Olayi and Christopher Kane as this graduate has already developed a successful line of her own, Bunmi Koko. Bunmi went with a warrior theme for Autumn '10 which was inspired by a Nigerian tribe and included bright coloured staffs. There were also some gorgeous fringe back leggings and tie dye prints.
Johanna Greenish closed the show with a monochrome collection. There were dramatic sculpted dresses and leather pieces which were inspired by art. She used hand painted fabric which was layered to create something unique.
Photos by Kirsten Borst
You can see all my coverage of Graduate Fashion Week here.