Pictures of Prime Minister David Cameron With Pregnant Samantha Cameron Who Has Given Birth to a Daughter Early
Samantha Cameron Gives Birth to a Daughter Early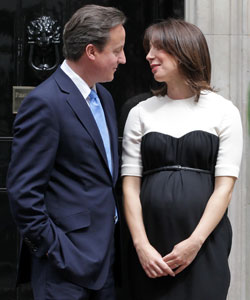 Samantha Cameron and Prime Minister David Cameron have welcomed a girl today. The baby was delivered by Caesarean section at the Royal Cornwall Hospital in Truro. She wasn't due until September, but Samantha went in to labour early while the family were holidaying in Cornwall. A Downing Street spokesman said:
"The Prime Minister and Mrs Cameron are delighted to announce the birth of their fourth child, a baby girl. Both the baby — who was born weighing 6lb 1oz — and Mrs Cameron are doing very well. The PM and Mrs Cameron would like to thank the doctors and nurses at the hospital for their help and kindness."
Their new daughter will join big brother Arthur Elwen and big sister Nancy. Last February the Camerons' son Ivan died, having suffered from cerebral palsy and epilepsy.
The couple announced the pregnancy in March. David became Prime Minister in May, and was shortlisted for the Dad of the Year Award. Congratulations to the Camerons!
To find out what David said, read more.
Following the birth of his daughter at lunchtime, this afternoon David said:
"We are absolutely thrilled. She is an unbelievably beautiful girl. I am a very proud Dad. Both baby and Mum seem to be doing very well. The other two children are bouncing up and down and dying to say hello to the new baby [...] I think we will have to have something Cornish in the middle. It's very exciting with being on holiday [...] Wonderful hospital they were all so friendly. Everyone put us completely at our ease. They were all absolutely wonderful. Lovely to be in Truro and to have the baby here."