The Positive Side of the Protein World Advertising Mistake
It's Time We Put Positive Spin on the Protein World Debacle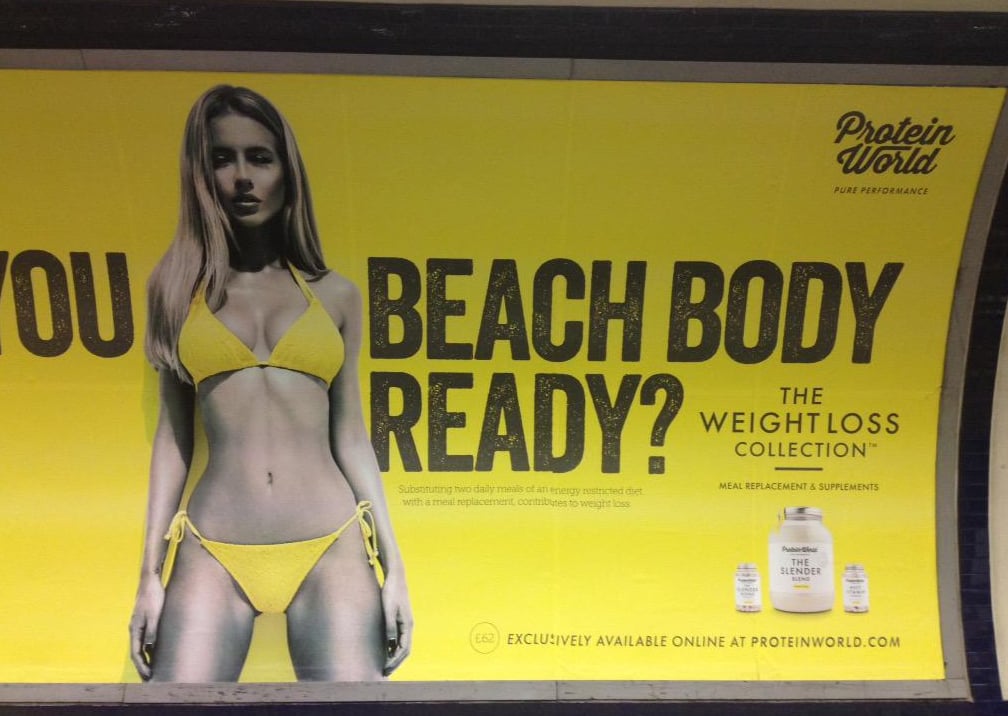 Source: Twitter user Katherine French
The first time I saw Protein World's "Are You Beach Body Ready?" advert, six foot high at my local tube station, I didn't really think much of it. There's nothing new about being bombarded with that messaging at this time of year, particularly if you're a woman. The quest for the perfect "bikini body" is something I'm all too familiar with. What has changed, however, is people's level of tolerance for it.
Social media has given people a voice, and women who are fed up of being objectified in this way, not to mention dictated to, quickly took to Twitter to voice their concern at Protein World's messaging. Who is the brand to decide what body is worthy of donning swimwear and hitting the beach? In the last few years, we've taken so many huge steps forwards in terms of body positivity. This does feel like a step backwards. But whether you agree with the critics or think they're overreacting, I think most of us can agree that the stance taken by the brand in response to the criticism — petty, childish name-calling and sarcasm — was ill-advised to say the least. It started off calling its naysayers insecure and fat and later went as far as to refer to the people defacing its posters with body-positive messages as "terrorists."
However, as much as some of you may be digging your nails into your fists at this point, this is a brand that clearly knows its target market (and doesn't care about anyone else). Despite the backlash, it's been reported that the brand has made £1 million in direct sales revenue since the campaign launched. The original ad has now been banned by the ASA, but not before it was seen by millions. It has received the kind of publicity money can't buy. It knows that for every one woman who's signed the petition to remove the ads, there's another who is so fixated on fitting into a size 8 bikini she'll try anything, even a protein powder that probably doesn't live up to its claims.
Luckily, there is a positive side to this. It's got people talking, and it's got people thinking. It's opened up the debate. Other brands have attempted to promote a more positive message, like Dove, which has produced a parody ad as part of its Campaign For Real Beauty.
If this whole debacle has helped one more person have the courage to put on a bikini and say "screw you," we're making progress. Because shame never made anyone healthier, and you can't tell the value of someone by how they look in swimwear.