Ravensbourne at Graduate Fashion Week
Graduate Fashion Week: Ravensbourne College
Much like the Westminster show earlier in the week, there was a lot of buzz surrounding Ravensbourne's College. Most of this hype has likely built up because last years winner, Jessica Au, is part of the Ravensbourne alumni. There were so many amazing graduates in this show that it will be difficult to mention them all, but here is literally the cream of the crop.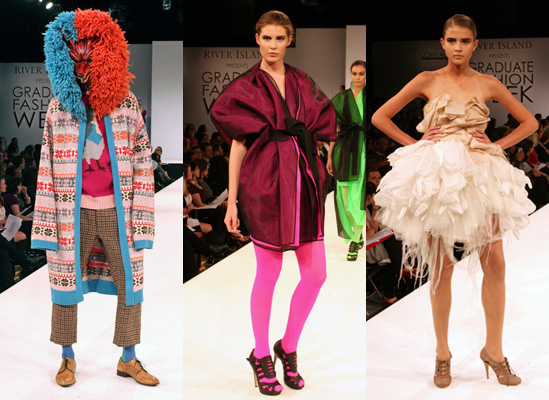 Sian Lendrum's angular shaped collection was simple yet effective. She layered black sheer organza over neon shades for a unique style. She was followed by Mehmet Ali who created beautiful ruffled dresses that wouldn't look out of place on Carrie Bradshaw.
For further thoughts and images, just read more.
There was a Viktor and Rolf feel to Yasmin Siddiqui's line of illustrated pieces. These had apron ties as the front of the dress was like a facade with the back simply being a plain silk number. Laura Yiannakou's pieces had a Jackson Pollock vibe with painted stripes and graphic illustrations. She mixed these with grey items including gorgeous carrot top trousers.
Hannah Taylor closed the show with a menswear collection of knits using bright colours and animal prints which resulted in a circus feel. The fox mask slouchy cardigan combo was memorable if not a little creepy!
Photos by Kirsten Borst