Rihanna's Stylist, Ursula Stephen Talks Hair Trends and Hair Care
Rihanna's Stylist: How to Amp Up Your Style, Get Healthy Hair, and More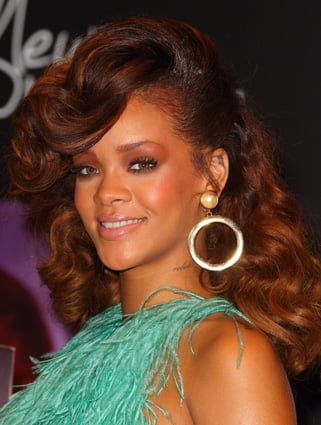 Celebrity stylist Ursula Stephen is the woman responsible for taking Rihanna's hair from demure to dashing. By lopping off Rihanna's long, straight hair, eventually taking it to an asymmetric razored cut, Stephen helped the singer become an international style icon. As you can imagine, Rihanna's ever-changing hairstyles require as much hair care as creativity. Find out how Stephen keeps her hair healthy — and what styles feel fresh now — when you keep reading.
BellaSugar: How can women keep black hair healthy in the face of chemical treatments, hot styling tools, and coloring?
Ursula Stephen: My best advice is to incorporate conditioning treatments into your regular hair care routine. African-American hair is prone to dryness and excessive use of hot tools, chemical treatments, and color processes only add to that dryness. It's important to restore moisture and deep-conditioning treatments offer that. There are great ones you can buy at your local beauty supply or drugstore. I always recommend Motions Deep Penetrating Treatment ($6). It's specifically for hair that has been dried out and damaged by heat and chemicals. Apply this to shampooed hair, cover with a cap or towel, and let the treatment soak in for five to 10 minutes. After you rinse, you'll see and feel a noticeable difference.
BellaSugar: Any tips to prevent breakage?
US: Getting regular trims is a great way to prevent breakage. [It] doesn't have to be a lot off the length; just a little cleanup to keep anything split from worsening and new breakage from forming. Plus, [use] a deep conditioner every couple of weeks, [and] you should maintain a good balance and less breakage.
BellaSugar: What are some ways that women with short hair can create fun, sexy looks?
US: If you're rocking a short style, you can have fun with it in a lot of ways. Try adding color – that can take your look up a level and add funk and dimension. Hair accessories are another great way to show off short-hair looks – headbands, embellished barrettes, all make you look glamorous. You can even add extensions. Short hair lends versatility. If you're feeling short and sassy, go with that look, [or] if you want to add some length and bring drama to your style, throw in some extensions. It's all about your mood of the moment and what hair is going to make you look and feel your absolute best.
BellaSugar: It seems like Rihanna is always changing up her hair and setting trends. How do you and Rihanna decide what's next? And between the weaves, wigs, and Rihanna's own hair being styled, how do you keep her hair healthy?
US: Yes, we are always changing it up, experimenting, and having fun with hair. That's what I love to do! Her hairstyle typically changes depending on what's on our agenda, what she's wearing, or how she's feeling. We take it day by day and event by event, and usually will both bring ideas to the table. It's always a collaboration, which is such a great way to work. It's all about the products that we use to maintain moisture in between all the styling. If we're going heavy with color, we'll lay off the chemical treatments; if her hair needs a break, we'll try a wig or weave. It's all about knowing and understanding the clients hair and reacting to it as you go along.
BellaSugar: What hair trends do you see being big for Fall 2011?
US: I'm really loving sexy, healthy hair [and] shoulder-length styles with lots of body and movement.