Roberto Cavalli in Conversation with Colin McDowell
Fab Field Day: Roberto Cavalli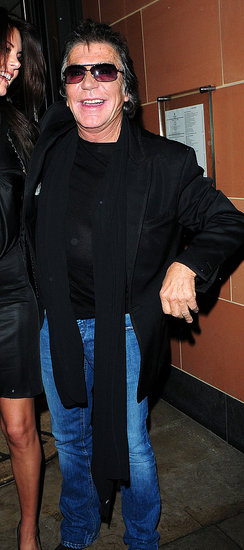 Last night The Sunday Times hosted an evening with Roberto Cavalli at London College of Fashion as Colin McDowell held a conversation with the designer about his history and his designs. In between offers of a stay in Florence, a copy of his painted portrait and small gifts Roberto Cavalli treated a small audience to an evening of fun showing how one man can achieve so much through sheer passion.
Colin McDowell began the interview asking Cavalli about how he broke in to the world of fashion and despite being concerned that his English wasn't going to be good enough, he talked about the beginning of his career in Florence and life as an artist. He started off making printed t-shirts and claimed, "You don't need money, you just need to believe in yourself." And indeed Cavalli is living proof that this is true.
He quickly turned to the audience for questions taking over from Colin McDowell. He continually discussed the lack of ideas in fashion right now, insisting that instead of taking inspiration from the past we should create something new. "London has the best fashion in the world, but one problem, you don't know how to make it!" he laughed.
Cavalli explained that all women are inspiring to him as femininity is his muse, however, he hates people that wear Cavalli in "a vulgar way." He went on to say, "The line between sexy and vulgar is so thin but beauty has to be discovered."
He attempted to explain his own talent and how he made it in fashion but simply stated that "fashion is in my DNA but I want to give you all my powers". When discussing his menswear line he realised that he himself was wearing a Cavalli for H&M blazer! Ending the talk with, "Fashion is fantastic, believe me."
Source