Rosie Huntington-Whiteley's Hair at Transformers 3 Premiere
How to Get Humidity-Proof Waves Like Rosie Huntington-Whiteley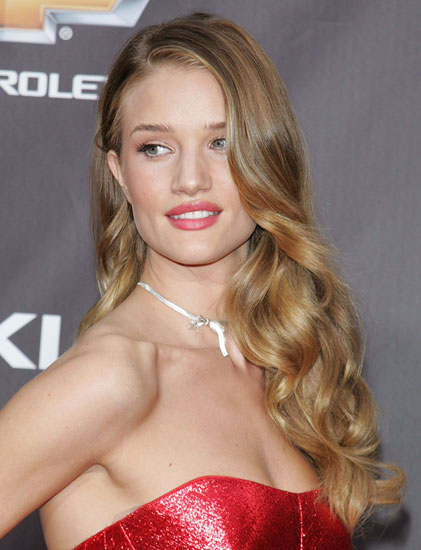 At last night's NYC premiere of Transformers: Dark of the Moon, Rosie Huntington-Whiteley walked the red carpet donning a timeless hairstyle featuring shiny, perfectly formed waves. "I wanted to go for a glamorous, Old Hollywood look to complement Rosie's dress; it was almost Jessica Rabbit-inspired," explained stylist Yiotis Panayiotou. "This style transcends all cultures and hair types, and it is universally flattering," he added. So to find out how Panayiotou created Rosie's glossy, humidity-proof look using Leonor Greyl products, just keep reading.
Prestyle:
After shampooing and conditioning the hair, Panayiotou applied the brand's Mousse au Lotus Volumatrice to enhance overall volume. Lait Luminescence, a detangler, was worked into the ends only.
Blow-dry:
Earlier in the day, Panayiotou created the base for Rosie's nighttime red-carpet style by blow-drying her hair using both small and medium brushes to amp up the volume.
Style:
Later for the premiere, Panayiotou curled large sections of Rosie's hair with a medium-barreled curling iron. In the back, he focused on curling the hair upward, beginning at the ends, making sure to stop before getting all the way to the roots. On the sides and in the front, he curled individual sections in alternating directions, placing them into pin curls.
Once the curls set, he removed the pins and brushed them out with a large, flat brush.
For hold, he sprayed the hair with Voluforme, and for added shine, he applied Sérum de Soie Sublimateur to the ends.
To finish, Panayiotou pinned one side of Rosie's hair back for balance and texture.


Source: How to Get Humidity-Proof Waves Like Rosie Huntington-Whiteley