Royal College of Art MA Show RCA Fashion Menswear
Royal College of Art Menswear MA
I wouldn't normally share menswear designs with you, but yesterday the Royal College of Art's graduate show included a high amount of pieces for guys and they were so good that I couldn't resist sharing them with you. The womenswear was good, but it was really the creativity here that impressed me.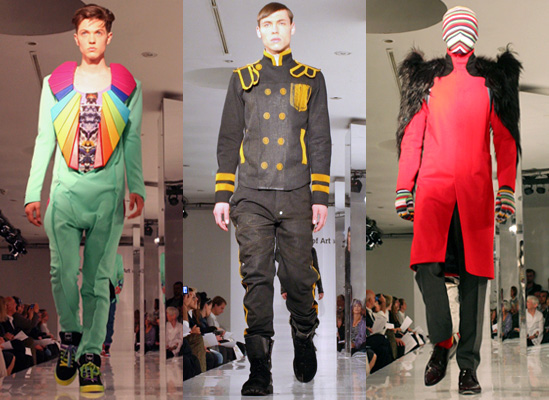 For more images from the show, just read more.
Amongst the students who stood out was Luis Lopez-Smith who designed streetwear that included a puffa military jacket. His creations were unique, but wearable. The same could be said about Matthew Miller's science teacher garments. He incorporated perspex bones applique in to his geek chic collection which included a lot of bow ties.
Bronwen Marshall closed the show with her hair covered menswear. Here tailoring was given an avant garden touch with striped knits and fur covered shoulders.
Photos by Kirsten Borst