Royal College of Art MA Show RCA Fashion Womenswear
Royal College of Art Womenswear MA
Officially Graduate Fashion Week came to a close yesterday with the gala show awarding the brightest young talent. However, this morning, one of the most prestigious post graduate institutes, The Royal College of Art, presented their fashion MA collections. Christopher Bailey, Ossie Clark and Zandra Rhodes form part of this college's alumni, but judging by today's talent there is sure to be many more names joining them very soon. Here is my pick of the best upcoming womenswear designers.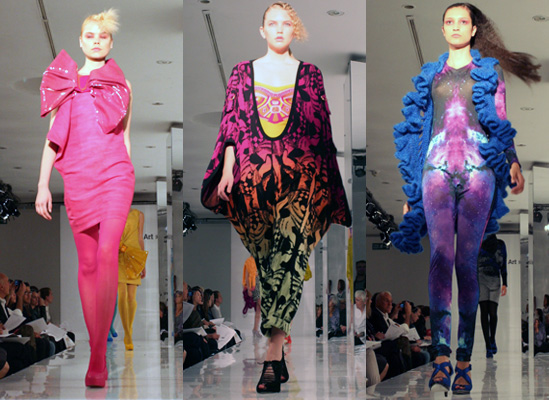 For further images and thoughts, just read more.
There was a strong '80s influence amongst the collections, particularly with Jennifer Selden's line of bright coloured pieces with exposed gold zips and big shoulders. Jane Rutter also tapped in to this trend with her designs which included bleached denim, harem pants and oversized, slouchy jackets.
Heidi Wikar's designs were unique with voluminous quilted jackets. She used white contrasted against orange for her line which also included parachute rain macs.
I fell for the girly charm of Ka Yiu Maureen Hung's bow adorned designs. She went with a simple yet effective idea which created pink, blue and yellow garments all completed with giant perspex bows.
Rachael Barrett also played with texture for her lingerie inspired sheer rubber items. You can imagine Lady Gaga falling for the charm of these revealing pieces. What do you think of these MA designs?
Photos by Kirsten Borst