SJP Collaborates with Manolo Blahnik
Carrie Bradshaw Lives On: SJP to Debut Manolo-Approved Shoe Line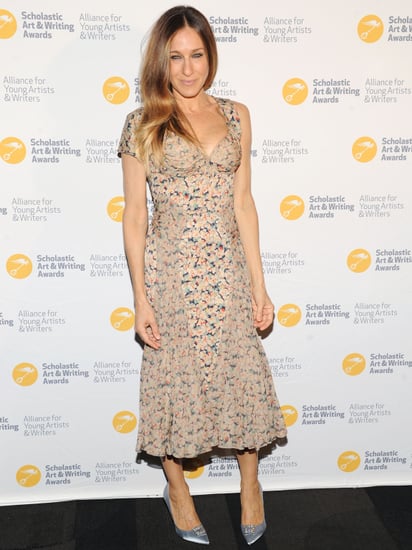 Sarah Jessica Parker will debut a line of shoes, bags, and trench coats, called SJP — thus fulfilling a Carrie Bradshaw-made prophecy. The announcement comes on the heels — literally — of the 15th anniversary of Sex and the City, and if you've even seen the opening credits, you know the HBO series put Parker on the map as both a fashion icon and, of course, as a Manolo Blahnik loyalist.
It makes sense, then, that the actress has chosen to collaborate with Manolo Blahnik's CEO, George Malkemus, and will draw inspiration from "great old-school labels like Charles Jourdan and Maud Frizon." In as much, expect classic, elegant silhouettes in unexpected colorways, with pumps and flats priced from $200 to $300 (£130-£195), and bags starting at $700 (£450) . Parker told Vogue, "We're putting new colours together that people don't typically do, just beautiful combinations that you wish existed in your closet."
The SJP accessories collection is slated to launch in early 2014 and will be sold exclusively through Nordstrom in America. As for what Parker had to say about (finally) taking the design reins: "In a silly way, I think it's what people have expected of me most because of Carrie Bradshaw."