Salma Hayek Beauty
Beauty Byte: Salma Hayek To Launch Affordable Skincare Line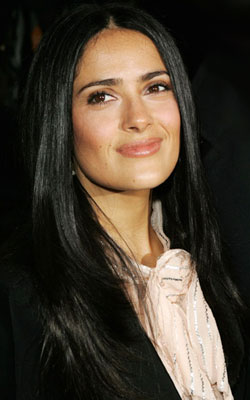 It seemed like just exciting speculation, when we first heard a few weeks ago that 42 year old Mexican stunner Salma Hayek leaked that she was in the research stages of developing her own line of skincare products. She said,
"I'm trying to develop a line with a drugstore so that it is affordable for everyone. We've researched for two to three years. My grandmother was a cosmetologist and she used to make her own creams, but my whole approach is how can we get the essence of the really expensive ones, but for everyone to be able to afford." She then quickly added, whilst outside of Beso restaurant in Hollywood, "I shouldn't be talking about this!"
However, it now seems like it's all beginning to come together. Her decision to join forces with a non-designer brand (any guesses which one) is great news as it wont be too expensive, especially in these tough economic times. As of now, we don't have any exact figures on price-points, or a title for the range, however, it is believed that the name will honour her maternal grandmother Maria Luisa. Salma adds, "When she died at 96, of course her skin had sagged, but she didn''t have any wrinkles. She made her own creams using secret ingredients you can only find in Latin America." Ahh, if only beauty product could make us as pretty as Salma! Would you be interested in buying her line of goods?