Saloni Lodha Talks About Her Autumn Winter 2011 Collection at London Fashion Week
Saloni Lodha Tells Us About Her Latest Collection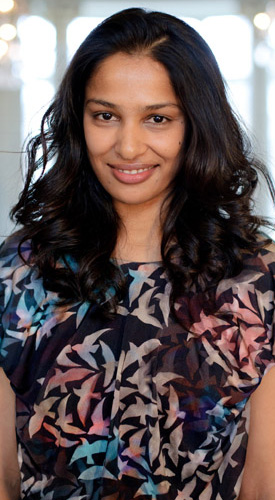 It feels like a lifetime ago, but just a few weeks ago London played host to the Autumn/Winter '11 shows and I found five minutes to catch up with Saloni designer Saloni Lodha. She held a presentation during the fashion showcase which introduced her latest beautiful collection.
Saloni is a relatively new brand (just three years old), but it already has a celebrity following which includes Poppy Delevigne and Emma Watson.
What is your background?
I starting selling first and I used to do pop-up boutiques in Hong Kong. I'm Indian and moved to London 6 years ago to follow my now husband.
What has inspired you for Autumn/Winter 2011?
Inspiration for the collection came from a photographer who captured Northern Sky lights. From there, I started looking at Google Earth maps and got really into the textures of the prints. The clothes really catch the light and the earth. The makeup and hair on the girls are natural and organic but have an edge and a bit of a vintage feel
Why did you choose to do a presentation over a runway show?
I chose to do a presentation instead of a show because of all of the separates that I show and I didn't feel comfortable putting a t-shirt on a catwalk. Plus, this kind of atmosphere allows me to speak with journalists in a more intimate setting. Rosie Chan the pianist is here and I'm very excited to be collaborating with her.
To see images of her latest collection, just read more.