Sass and Bide Rat Leggings For Less
Look for Less: Sass and Bide Rat Leggings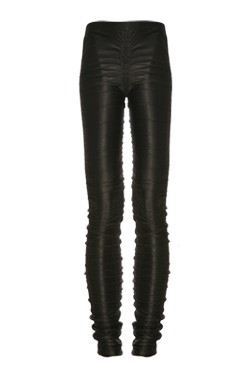 Sass and Bide were mainly famous for their skinny jeans until this season when their rat leggings quickly became one of the most talked about pieces of the Autumn. Most of you thought they were fabulous and it seems that Russell Brand agrees with you too!
I was slightly put off by their name but have since warmed to the style and have even developed a slight soft spot for the PVC version (£130). The standard ruched leggings (£93) sell out very quickly.
If you're budget doesn't stretch to the designer price tag to see another option just read more.




It's taken the High Street longer to respond that I expected but this week New Look are stocking a pair influenced by Sass & Bide's style. The pair of satin treggings (£15) have a slightly different ruched pattern and don't look quite as flattering (or as tight fitting).
The lack of ruching around the crotch means the quality doesn't look as high but if you usually wear leggings with a long top or with a mini dress then it shouldn't matter too much.
Does the lower price tag leave you more tempted to try out the unusual trend piece?