Simon Fuller Buys Storm Model Management, Extends Fashion Profile
Fab Flash: Simon Fuller Buys Storm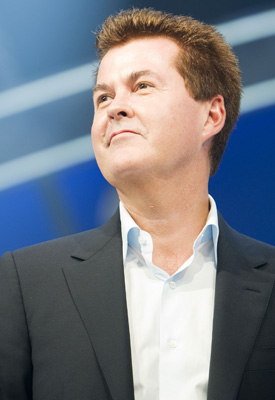 Rumours have been circulating for several weeks about Kate Moss's role in Simon Cowell's latest entertainment venture. This weekend the story gained a new twist as media mogul Simon Fuller (perhaps most famous for being behind the Spice Girls) bought a sizable chunk of Storm Models. His company, 19 management reportedly gained a 51% stake in the agency which is behind some of fashion's most famous faces including Kate Moss, Jourdan Dunn, Cindy Crawford and Carla Bruni.
This isn't Simon's first dealing with the fashion world, of course, as two years ago he teamed up with Roland Mouret to launch 19RM and more recently launched the website Fashionair. He is also behind Victoria Beckham's dress collection which has become a big success over the past few seasons.
For further information about the business venture including Simon's plans for the futures, just read more.
The latest business move might come as a surprise to some as 19 Management is more strongly associated with the music industry launching shows like American Idol, So You Think You Can Dance and Pop Idol, but Draper's editor Jessica Brown explains how everything is so entwined.

"Links with music and celebrities have become so important in influencing the industry. What a celebrity wears has become as powerful as the catwalks, so it makes sense to take advantage of that and create a lifestyle company. Simon Cowell and Philip Green may be joining forces in a similar way to combine music and fashion."
Simon explained to WWD what his latest venture might entail saying it will, "push the boundaries, blur the lines and redefine what a model agency should be in this fast moving world, where fashion is playing an increasingly important role in setting and reflecting cultures and tastes." Hopefully this will involve a greater insight in to the modeling agency for mere mortals like us, maybe a reality show – the mind literally boggles! What do you think of this latest venture for Mr. Fuller?