Simply Fab: Aspinal Heart Shaped Purse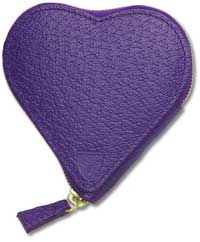 So you already have your heart-shaped sunglasses and your heart-shaped jewellery but what about a heart-shaped purse? I have become slightly obsessed with this trend but I couldn't help but share these gorgeous purses with you! They are surely the cutest way to hold on to loose change and will only set you back £35. It's available in a range of colours you can choose from purple, red, blue or pink.
These are by Aspinal of London and are made of calf hard wearing leather and lined with super soft suede. Is it a trend step too far?