Simply Fab: Giles for Smythson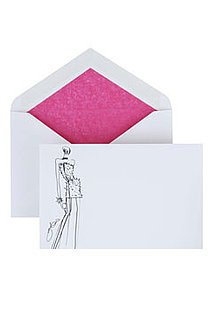 Although most of us send many emails every day, how many of us take time to indulge in the classic correspondence of letter writing? Everybody loves to receive post (particularly if it's not a bill) and a beautifully decorated envelope is always welcome on my doormat!
Now post could be becoming even chicer as Giles Deacon teams up with luxury stationery company Smythson due to launch in January. Giles told Vogue, "I am a huge fan of Smythson notebooks and always carry one with me everywhere, so when it was put forward a chance to do some correspondence cards I leapt at it."
The collaboration will be limited to just 300 boxes with each containing five hand-engraved card designs come with hand-lined tissue envelopes. Giles added, "Smythson's quality and attention to luxury detailing I adore, so was very delighted when I saw the end results."