Simply Fab: Henry Holland's Fashion Easter Egg
Simply Fab: Henry Holland's Fashion Easter Egg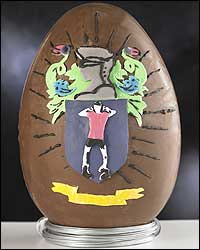 Henry Holland is a man with fingers in many, many pies! Not content with taking over the fashion world and attending every uber-cool party he is now venturing in to chocolate!
He has created this easter egg for Thorntons and it festures the Holland family shield along side House of Holland's motto, 'Passio Factionis' (passion for fashion).
The Holland-design Easter Egg will be auctioned on eBay next week to raise money for the children's charity Barnardo's.