Snow or Cold Day Outfits on Twitpic
Show Me Your Cold Day Looks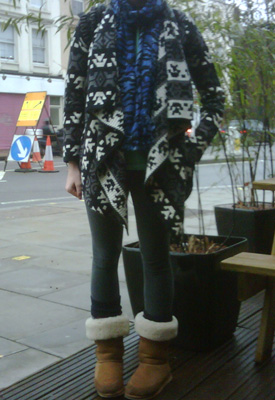 The weather has played havoc with my wardrobe lately. I haven't risked wearing heels for at least two weeks and I've been piling on the layers! Earlier in the week I asked you which footwear you'd be wearing and it seems the weather has changed your choices for sure.
Baring this in mind, I want you to Twitpic your snow or cold day looks. All you need to do is take a photo and put it on your Twitter page and @fabsugaruk somewhere so I can find it! I will make a slideshow of the best looks at the end of January.
Here is my cold day look (the snow has sadly melted). I am wearing sheepskin boots, grey leggings, an Alice by Alice Temperley scarf and a blanket cardigan from ASOS. I can't wait to see your looks!