Sofia Coppola Accessories for Louis Vuitton Unveiled in Tokyo
On Our Radar: Sofia Coppola for Louis Vuitton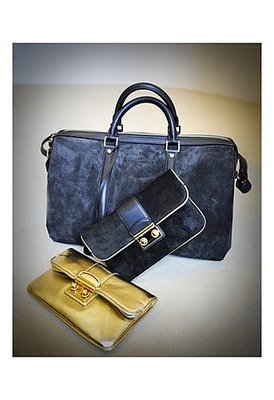 In October it was revealed that Sofia Coppola was designing a line of accessories for Louis Vuitton. The ad campaign star has debuted her line in Tokyo this week which consists of slouchy duffle bags, discreet clutches and retro wedge sandals.
Coppola told WWD that the collaboration occurred after a visit to the Louis Vuitton custom orders department. "To start with I wanted to make a bag for myself and then we talked about making a little capsule collection. My friends and I are always searching for the perfect day bag. It fits all your things but isn't too big and isn't too heavy."
The key piece is the SC Bag (presumably after her initials) which is available in dark grey suede, two in calf leather in dark blue and burgundy. Coppola also designed shoes with the aim of crafting "a heel you can really wear all night and it's comfortable but still looks chic," which took influence from the '70s.