Somerset and Northampton at Graduate Fashion Week
Graduate Fashion Week 2008: Day Two
If they were more hours in the day then I would love to tell you about every single student and their amazing collections. Every single graduate showing at this year's Graduate Fashion Week has worked incredibly hard and deserves great applause. However, although this is not physically possible, I will strive to bring you the most up to date news about this year's graduating class. Day two saw shows by Rochester and Westminster but also from Somerset College of Art & Technology and the University of Northampton. Here are just some of the highlights from these shows.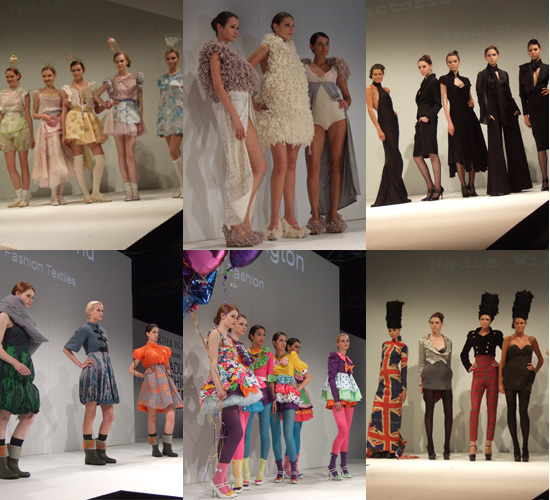 A couple of collections stood out at Somerset where I actually fell in love with a dress by Emma Hossington which is especially annoying as I can't have it! Her collection was as bright and colourful as a children's birthday party with plenty of ruffles, bows and polka dots. The final model even carried a collection of brightly coloured balloons confirming the party theme.
To find out more about Somerset and Northampton read more
Another line which stood out was the outdoor themed pieces by Tikara Townsend which used quirky camping details for the perfect festival wear. Turned down wellies is surely a trend in itself. Alice Zeta-Kane was one of the college's textiles students producing a line of voluminous loop wool pieces alongside bird on the wire printed cotton items.
The University of Northampton showed shortly after, Victoria Pangbourne created a gothic collection of formal wear with Victoria details (top right). A sheer pussy bow blouse with long cuffs stood out as did some extremely wide leg trousers.
Natasha Johnson went all out girly for a '50s inspired tea and cake collection with funky kitchen utensil headpieces. She used pretty sheer floaty fabrics and pastel shades creating pieces that wouldn't look out of place of Bree van der Kamp.
Finally, Nadia Wilcox took lead from Vivenne Westwood's punk days using vintage union jack flags, tartan and military styling to create a very memorable collection.
Graduate Fashion Week continues until Wednesday.