Sonia Rykiel Opens a xxx Exhibit in Paris
Fab Flash: Sonia Rykiel Exhibit Opens This Wednesday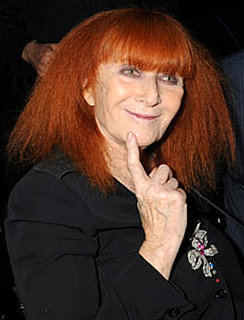 Sonia Rykiel has been celebrating her 40th anniversary in fashion over the past year. In October at Paris Fashion Week, designers paid homage to the fashion icon by putting on an elaborate runway show of Rykiel-inspired looks. WWD reports, that the final leg of her walk down memory lane is a fashion/art exhibit that opens this Wednesday at Les Arts Décoratifs in Paris.
About 200 different outfits from years past will be on display in a thematic order along with commentary about the multitude of designers (i.e. Jean Paul Gaultier) that have blossomed from her influence.
Olivier Saillard, the man responsible for organised the retrospective says, "Rykiel did minimalism before the Japanese and turned clothes inside out before the Belgians." Nathalie Rykiel, Sonia's daughter and president of the company says "She always took something from the last collection to start the new one." Personally that makes a lot of sense to me since I feel her clothing is so timeless.
For more about the details of the exhibit and to find out how long it runs, read more.
The upstairs portion of the exhibit features photographs by Dominique Issermann of models in Sonia Rykiel clothes. There is also a picture of Sonia Rykiel that Andy Warhol created, an area that shows off her flowery evening-wear and a mock-up of Nathalie Rykiel's closet.
If you can't make it to Paris between 20th November through 19th April, you can read about it in detail in a book called "La Femme Rykiel," which has just been released. What are your thoughts about Sonia Rykiel's designs?