Spring 2011 Milan Fashion Week: D&G
D&G Takes You on a Floral, Checkered, Lace Picnic For Spring 2011!
Domenico Dolce and Stefano Gabbana's latest D&G collection is quintessentially Spring. It's everything you dream of for the playful season: florals, checkers, lace, ruffles, tiers, and more florals. Exaggerated, medium, and tiny floral prints come in a bouquet of hues like pink, yellow, purple, and blue. Everything from flirty frocks to shorts to baggy trousers and tunic tops all have a bad case of floral fever! But florals aren't the only highlight of this collection. The red and white checkered print is old-school and totally picnic ready. A few denim pieces also make a cameo, as do a couple of delicate lace styles. My favourite bit? The accessories! Silk bandannas, canvas bags, skinny tan belts, and floral sandals are too darling for words.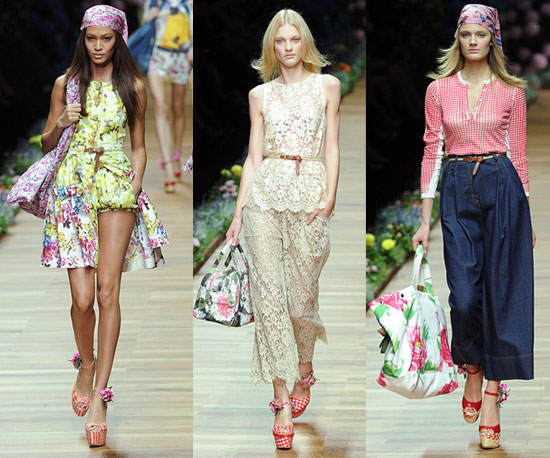 To see all of the pics from the D&G show, read more.