Spring 2011 New York Fashion Week: Alexander Wang
2011 Spring New York Fashion Week: Alexander Wang
The cool chick has a new uniform, and it's not black. Actually, it's the opposite of black — it's stark white! Wang worked his magic touch, giving cool girls all over the world a brand new, fresh uniform for upcoming Spring. The designer once again picked an out-of-the way location at Pier 94. The star turnout wasn't as thrilling as years past — MIA and Lenny Kravitz were among the boldest of names. Alexander told FabUS that he was moved by an "under construction" vibe.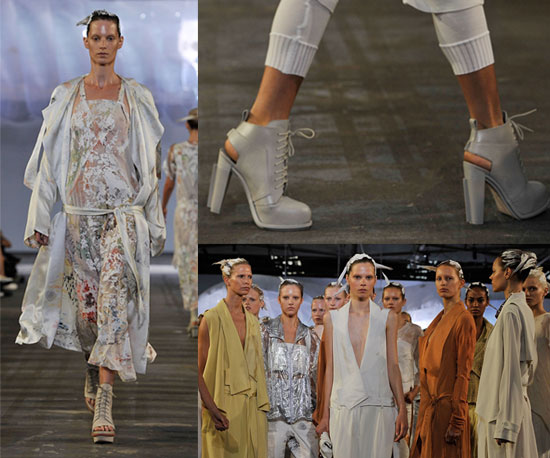 That was evident in his constructions that featured a metallic-duct-tape-esque detail. His models coordinated with rugged high-heeled boots, which added to their worker aesthetic. The rest went a little something like this: silky, flowy white fabrics, crazy cool asymmetrical details, ruched pants, baggy jackets, and loose-fitting jumpsuits. Interspersed were mint-colored, lime, and nude pieces — all oversized — which meld with the understated vibe. The colors are minimalist, true, but the silhouettes are anything but. Look closely and you'll see a lot of thought-out detail: tie-waists, layering, cutouts, sheer, crisscross backs. I hope you're taking notes because come Spring '11, all the cool girls will be under construction.
To see all of the pics from the Alexander Wang show, read more.