Stefano Marcantonio Handbags
On Our Radar: Stefano Marcantonio
Stefano Marcantonio is about to embark on a new journey. After working at the William Morris Agency in Los Angeles, he's decided to hone in on his passion for fine leather goods and create a line of Italian handbags. Lucky me has been able to get a sneak peek at these hand-crafted gems made from precious skins (think alligator, ostrich and python) and moulded brass hardware. Manufactured in the same Milanese space as Chanel and Armani privé, Stefano recognizes the value that this manufacturing ground brings to his products.
His inspiration came from the rich beige, musk green, ochre, dark red and smoky grey colours in the Autumn woods, and the majority of pieces are named after 17th century powerful princess and queens. My personal favourites are The Meredith, a red python shoulder bag with an edgy skull on the front and the The Soraya, a timeless cobalt blue ostrich clutch.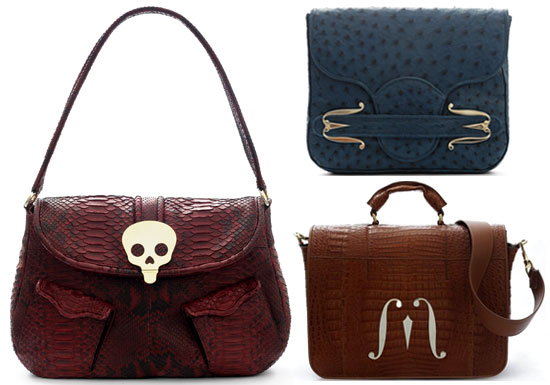 The bags will be available online and in stores with prices ranging from £680 - £7,000 (not including made-to-order items) this February (just enough time to save your pennies ladies), however, buyers will have first looks in September.
To check out all of the bags in the 2010 Spring/Summer line, read more.