Stella McCartney is Angry at Use of Her Lingerie in Hockley Fur Ad
Fab Flash: Stella's Anger at Hockley Fur Ad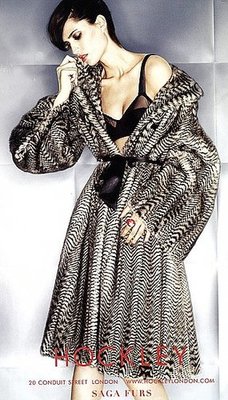 If only one designer is synonymous with the anti fur movement it's Stella McCartney. She has tirelessly campaigned against the use of animal products in fashion and worked closely with animal rights campaigners PETA (People for the Ethical Treatment of Animals) to ensure a higher quality of life for animals across the world. With this is mind, why would anybody ever consider it a good idea to team her lingerie with a mink coat?
That is a question that Mayfair based design house Hockley should be asking themselves this morning as it emerges that their ad in September's issue of Vogue features Stella's lingerie.
According to the Daily Mail, Stella is said to have gone 'ballistic' (and rightly so) when she found out about the "monumental cock-up" and has threatened to sue.
To find out what Hockley had to say read more
Hockley have apologised for the ad and a spokesman told the Daily Mail,

"Hockley is aware of Stella McCartney's views and is respectful of them. This was an unfortunate mistake and Hockley would not intentionally make anyone feel uncomfortable. Hockley both requested and was told that the item was a vintage piece and apologises for any embarrassment caused to Stella McCartney. It is not Hockley's intention to use the image again."
The ad is expected to have cost Hockley around £36,000 in total (including fees to Vogue). Wouldn't want to be that stylist this morning, would you?
Source