Stella McCartney for Disney Jewellery, Alice in Wonderland
On Our Radar: Stella McCartney for Disney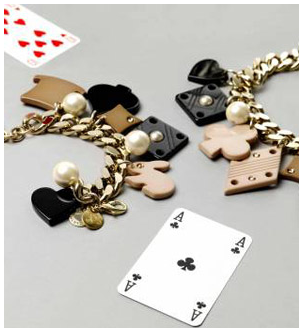 Alice in Wonderland is one of my favourite books of all time. I love the magical story and have even hosted my own Alice party. I was so excited to hear that Tim Burton was making a film of it and I'm sure it will be a wonderful production.
This week, it was announced that Stella McCartney would be creating a capsule jewellery line for Disney inspired by the new film. Images of the collection have just been revealed showing a necklace and bracelet and they're really fun. Both use a gold brass chain adorned with pearl baubles, Swarovski crystals and Alice in Wonderland inspired charms including rabbits, hearts, diamonds and spades.
The pieces will be available from Stella boutiques next month. The bracelet is £235 and the necklace is priced at £255. What do you think about this collaboration?