Stella McCartney Interview Heartless Fashion Industry
Fab Blab: Stella McCartney on the Fashion Industry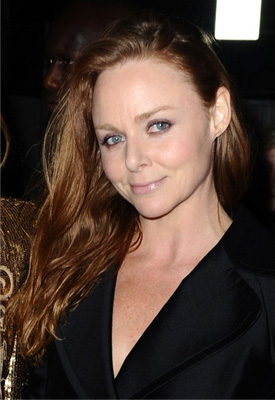 Stella McCartney talked to the Guardian recently ahead of her Spring 2010 show at Paris Fashion Week. The British designer spoke candidly about the "heartless" fashion industry, her role as an ethical designer and how she's "not perfect".
Here are some excerpts from the article,
Are people in the fashion industry heartless? "People in fashion just don't want to hear the messages. I find it astounding, because fashion is supposed to be about change – I mean, we're supposed to be at the cutting edge! I can only think they don't care as much as people in other industries. So, yes, I think people in fashion are pretty heartless. They must be! Why on earth would they use fur and leather otherwise? There's no excuse for fur in this day and age. Baby kids are boiled alive. Foxes are anally electrocuted. If that's not heartless, what is?"

To find out more about Stella, just keep reading.

On knowing what women want to wear: "Things got better when I started being more true to myself. I like doing slightly masculine, Savile Row tailoring. A nice jacket. Wearable – it's almost a dirty word in fashion, wearable, but that's what I do. And yeah, it can get a bit boring, but I can push it each season into something better and more relevant for that season."
On being an ethical designer: "The main thing I need to do is create, hopefully, exquisitely beautiful, desirable objects for my customer. That's my job, first and foremost. If I can make you not notice that it happens to be out of biodegradable fake suede, if I can make you not notice that it hasn't killed cows or goats or unborn baby lambs, then I'm doing my job. There should be no compromise for you as a customer. I don't want to do scratchy, oatmeal-coloured things, that defeats the object."
On her Gap collaboration: "I definitely took a couple of things that are totally Stella and reduced them down, because I know that's what I would want if I was one of the parents buying this. I'd be like, 'I want that, but little.' But the challenge was that this goes up to age 12, so you're not just designing for the mums and dads. My eldest is four and a half and suddenly, he has all these opinions on what he wants to wear. Oh, and we did have jumpsuits to start with, but you know, kids have to pee . . ."