Stella McCartney Talks About Private Education and Becoming a Fashion Designer
Fab Blab: Stella McCartney on Being a Designer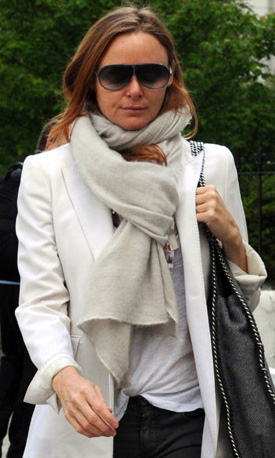 Stella McCartney has given a very frank interview this weekend to The Observer as the McCartney clan guest edited the food supplement.
Stella talked bluntly about her much discussed decision to send her children to private school despite being educated at a local comprehensive herself. She explained that she wanted to live in the country and send her children to a "normal" school".
"Completely didn't work out. It's one of my biggest internal struggles – the whole schooling system in London and the fact that my kids are going to a posh school. It freaks me out. But it's not realistic to live in the country at this stage, I've got a business in London. I beat myself up about it all the time. If at any stage it looks like they're becoming total jerks and saying, 'hello mummy' in posh voices instead of running in and just being their awful selves, then you have to knock it on the head."
Stella also talked about what lead her in to a career in fashion in the first place. To find out what else she said, just read more.
She said, "I think it was films. I loved all those Doris Day visuals of her being a tomboy and then changing into this gorgeous girl in a ballgown." The British designer expressed her desire to create distance from her parents' careers,
"I didn't want to go into what my parents did because that would have been a story and people would have talked about it. Also, I liked fashion. I used to get embarrassed about the fact I liked fashion. I still get a bit cringy. I'd sit at dinner parties and people would say to me, 'So what do you do?' and I'd be like, oh design! When I fill passport forms I put 'design.' I don't say fashion. But don't get me wrong, I love my job!"
Stella has worked hard to create clothing that does not use any animal products. When she joined Chloe in 1997, she was also quite insistent that the label respected her beliefs. She admits that the position of her parents helped her stay true to her principles,

"I wouldn't be as stupid as to sit and say that having the parents I've had and meeting the people I've met hasn't helped my career. For instance, not doing leather and fur in my industry is unheard of. I've been able to do that from day one because in the back of my mind if someone goes, you're fired, I could go 'OK Mum, lend us a fiver.'"
It's interesting to hear Stella being so honest as she has previously come across as quite guarded in interviews. How do you feel about her opinions expressed here?