Still a Few Hours Left to Vote in LK High Street Fashion Awards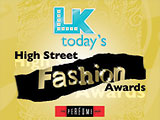 LK Today's High Street Fashion Awards are now in their fourth year with the winners being announced on Monday next week. The awards asks you to vote for your favourite stores with categories including, Best Trendsetters, Best Value, Best Accessories, Best Premium, and Best Jeans.
There are still a few hours left to vote for these online on the GMTV website. The Perfume Shop will also be awarding the Best Dressed Celebrity. This year's nominees are Kelly Osbourne, Lliy Allen, Alexa Chung and Fearne Cotton. Be sure to check back on Tuesday when we will announce the winners.