Style Glossary: Mary Jane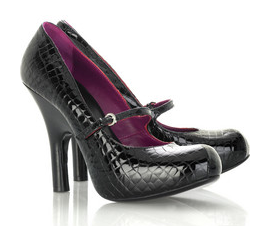 Mary Jane shoes used to be reserved for little girls but add a heel to them and you've got one of the most famous styles of shoes currently available! Alongside brogues, Mary Jane shoes are a wardrobe staple and so versatile.
They're defined as, 'a kind of strap shoe or sandal that typically has low heels, broad and rounded closed toes, and a single-buckle strap across the instep and/or around the ankle.'
Obviously designers get a bit creative with the style adding in a big heel and platform or maybe an extra strap or two. The basic style is very comfortable as the strap holds your foot in place.
This pair are by Vivienne Westwood (£355) from net-a-porter.com.